A Shortage And Production Slowdown Could Be Just A Few Years Away, According To Rystad Energy.
By Donna Schmidt
Could current lithium mining capacity bottleneck industry? That seems to be the case, according to independent energy research group Rystad Energy, which in a new analysis has revealed the global market share of electric vehicles could rise to such scale that lithium production for EV batteries might not be able to keep up.
"Excluding the lithium mining capacity that supplies non-battery markets such as glass and ceramics, the remaining lithium production capability that can be used for manufacturing batteries of all applications in 2021 is standing at nearly 520,000 tonnes of lithium carbonate equivalent (LCE) per year," the group said.
While demand for LCE this year from battery makers is projected to be 300,000 t, that demand will grow – and rapidly.
"Already in 2025 LCE demand from battery manufacturers will reach just over 1 million tonnes, compared to a LCE mining capacity of just over 1.3 million tonnes when other uses are excluded. By 2026, the scale will tilt towards a minor mining capacity deficit."
This will indeed create an issue for industry if the mining project pipeline for the commodity goes on unchanged.
"The capacity deficit will start swelling and reach nearly 820,000 tonnes in 2028 when LCE demand is estimated to surge to 2.8 million tonnes. Things could get even worse as demand continues to rise, with the imbalance possibly ballooning to 2 million tonnes of LCE as soon as 2030."
Another element to rise: LCE prices. In 2020, the per-tonne price was about $8,200 after a few years of turbulence stemming from EV demand jumps from China and temporary supply shortages; specifically, from $6,500/t in 2015 to a record high of $17,000/t in 2018, before a calming in late 2018 and 2019.
"We anticipate that lithium prices could replicate their past turbulence if supplies cannot catch up with booming EV demand later this decade. Looking at the significant task ahead to build more mining capacity, prices could even triple as a result of the market imbalance," explained James Ley, senior vice president at Rystad Energy's Energy Metals team.
The year to watch at this point, Rystad said, is 2027 – that is when the group estimates a serious lithium supply deficit could be seen.
The crossroads of the quandary comes with the length of time it takes to add lithium projects to the mining pipeline. At current, Rystad said that can be five to seven years for development, financing and construction.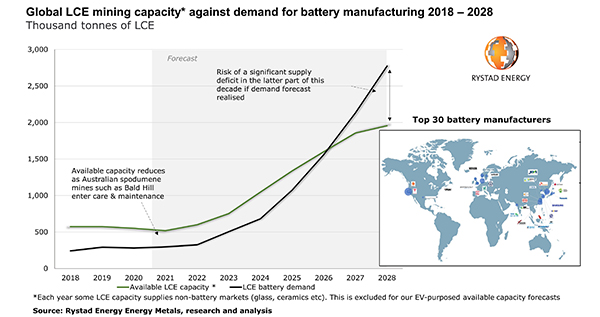 "In fact, based on our current lithium mining capacity outlook and the share of lithium demand that electric passenger vehicles will create, we estimate that the supply deficit is poised to delay the production of the equivalent of around 3.3 million electric vehicles with a battery of 75 kilowatt-hours (kWh) already in 2027," Ley explained.
"The impact will grow quickly, to around 9 million EVs in 2028 and some 20 million electric cars in 2030. Although there is plenty of lithium to mine in the ground, the existing and planned projects will not be enough to meet demand for the metal.
The next logical question: would upping recycling efforts help? In short, no, according to Rystad, with structural changes needed in the lithium industry long-term, from its perspective, to make it more sustainable.
"Recycling is thus unlikely to plug the gap in lithium supply shortages to battery manufactures after 2025," the group said. "We therefore expect prices of lithium to rise in line with our demand forecast until new mines are developed beyond the 40 or so that are currently proposed."