They are each helping to shape the next chapter of mining, advancing the industry and improving safety. Meet Nicole Henderson and Katherine Harman in this issue's Women in Mining spotlight.
By Sara Arola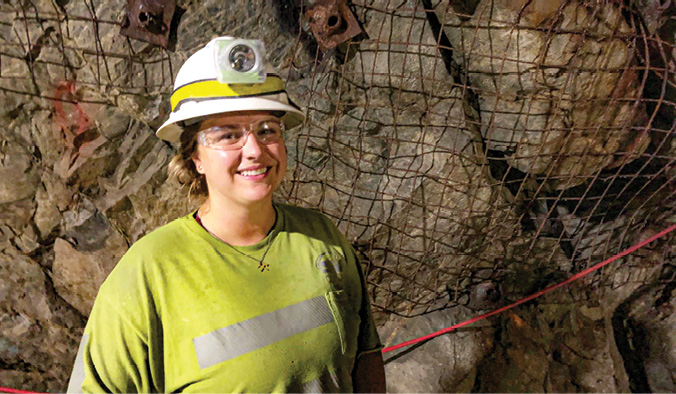 Only a few jobs have the ability to shape a career; fewer careers have the power to define a life. Truly life-defining careers are those workers fully devote themselves to, and sometimes even risk their lives for, every day.
Some come to mind easily – military service, medicine, ministry, law enforcement, teaching and firefighting. Other life characterizing careers go mostly unnoticed and unsung – in fact, one of those less conspicuous occupations is almost entirely underground.
For centuries, courageous individuals have dedicated their lives to mining, and in turn given life to mining's proud story. It was not until recently that women began playing an increasingly important part in that story. Today, however, women are choosing to dedicate themselves to a career and a life in mining, and they are helping propel mining's story forward.
The only female in the room
As a child, Nicole Henderson often visited the Silver Valley in northern Idaho. The region, which has long been a hot spot for adventure-seeking tourists and outdoor enthusiasts, is home to 90 mines, including two that are still in operation. In the 1870s, gold fever brought miners to the area and today the valley still ranks among the top 10 mining districts in world history.
"Growing up, I was fascinated by the area's mining history," said Henderson. "However, I wasn't certain mining was a career I wanted to pursue until I attended the Colorado School of Mines and joined the mine rescue team."
The Colorado School of Mines focuses on science and engineering degrees that prepare students to work in many industries, including mining. In 2019, 30.7% of its students were female, more than double the number of females who currently work in the mines, which according to the Bureau of Labor Statistics sits only around 13%.
"Honestly, the fact that the industry is so male dominated did not really cross my mind until I had already chosen my major," said Henderson. "I was in one of my first mining classes and the professor said, 'good morning, gentlemen', paused and then followed with, 'and lady.' It took me a second to register that I was the only female in the room. I was so caught up in the excitement of the opportunity, I had overlooked the fact that it was an uncommon career for women."
Thankfully, that did not deter Henderson. After graduating with a bachelor of science in mining engineering, she is now an underground senior mine engineer at the Galena silver-zinc-lead-copper mine in northern Idaho.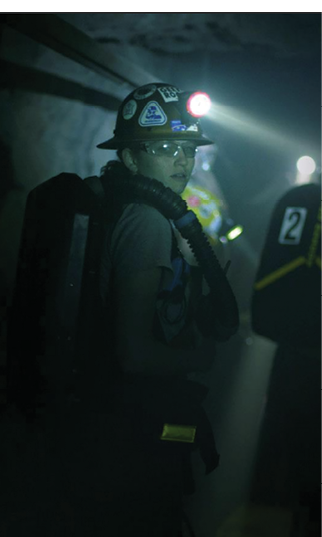 Blowing things up, breaking barriers and overcoming stereotypes
Katherine Harman also graduated from the Colorado School of Mines with a bachelor of science in mining engineering. Her interest in the field was piqued in high school when the Society for Mining, Metallurgy & Exploration (SME) gave a presentation on mining and geology to her class.
"When I heard that I could play in the dirt and blow things up for a living, I was sold," said Harman. "It never occurred to me that I shouldn't pursue a career in mining because it was a male-dominated industry. It was something that interested me, and that was what mattered in the end."
Now, Harman does get to "blow things up" for a living – she currently serves as a consulting engineer for Hexagon Mining.
"For a long time, people couldn't picture women in mining's high-risk and highly physical work environment – they assumed women were not capable of performing certain tasks," said Henderson. "But when you work hard and show your knowledge and worth, this doesn't remain a barrier for long."
"The greatest hurdle is proving women can perform the same tasks as men," agreed Harman. "It's taken time, opportunity and hard work to convince some that woman belong underground, but the industry mindset is changing."
Advancements in safety
Mindsets are not the only thing changing in mining. According to Henderson, the industry is gradually becoming "a tamer environment" compared to the days of dynamite and pickaxes. More importantly, mining is also becoming safer.
More stringent laws and regulations, including the Federal Mine Safety and Health Act of 1977 (Mine Act), have contributed to lower fatality rates in recent years. Advanced technology and cutting-edge personal protective equipment (PPE) are also helping better protect miners both above and below the surface.
Drones, autonomous trucks and automated muckers are all relatively recent innovations that are not only making a significant impact on mining productivity, but also on safety. Automation allows miners to be physically isolated from underground hazards while they operate the machinery from above ground.
There have also been noteworthy advancements in PPE. More than a hundred years ago, Dräger, an international developer of medical and safety technology, invented the first breathing apparatus, the Model 1904/1909, to supply miners with oxygen during mining disasters. Later, Dräger created the Dräger Pulmotor, the first ventilator. These pioneering products paved the way for the innovative, life-saving solutions on the market today, including the Dräger PSS BG4 Plus, a closed-circuit breathing apparatus specifically designed for demanding tasks like mine rescue.
Mine rescue: Training, technology and trust
Both Henderson and Harman were actively involved with their student mine rescue teams at the Colorado School of Mines. Henderson was part of the first all-female competitive mine rescue team, having served as "gas man" for two years and as team captain for two years. During her college years, Harman served as captain of both the all-female team and the coed team. Throughout their careers, Henderson and Harman have stayed involved in mine rescue, and both agree that properly training for real mine rescue situations can be the difference between life and death.
Today mine rescue contests are essential aspects of professional training because they allow miners to sharpen their skills and prepare for various emergency scenarios in a controlled environment. Safety isn't about luck – it is about learning to trust your skills, your teammates and your equipment. These contests can help mine rescue teams build that much needed trust.
"My participation in mine rescue is what got me hooked on mining, because it introduced me to the amazing network of people in the industry," said Henderson.
Sharing pride and information
Henderson agreed that it is the people that make mining an exceptional career path. To ensure inclusion, she encourages women entering the industry to avoid separating themselves from their male colleagues. "Young girls shouldn't think of themselves as the future women of mining, but instead just think of themselves as future miners," she said.
For Henderson, it is her co-workers, male and female, who make the future of mining so exciting.
"Mining attracts down to earth, adventurous, hardworking people who are always willing to pass on their knowledge and expertise," she said. "From the miner who has worked underground his entire career to the engineer implementing state-of-the-art automation, everyone has valuable experience to share."
As one of the world's oldest industries, mining remains a tremendous source of history and tradition. For the more than half a million miners in the United States, it is also a source of immense pride – beyond a mere occupation, it becomes part of their identity and a badge of honor. Going forward, more and more women will have the opportunity to carry that badge and write the next chapter in mining's story.
About the author: Sara Arola is the marketing manager for Dräger's mining and tunneling solutions division in North America.