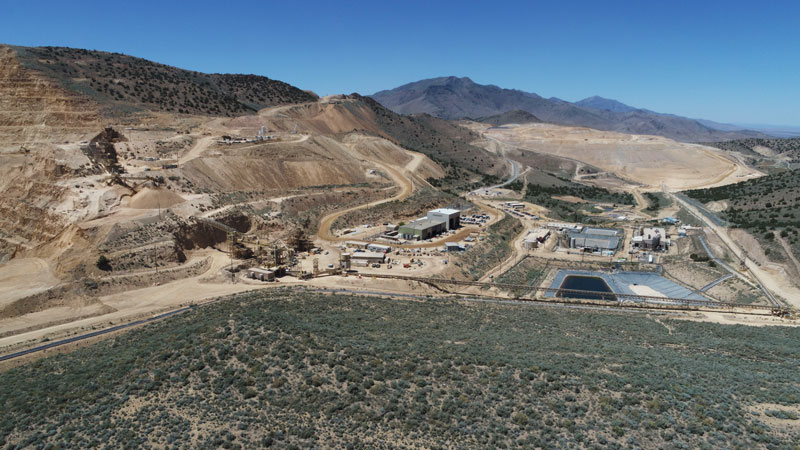 Couer Mining has confirmed a number of crucial milestones for its Rochester expansion project in Nevada, including initial production of silver and gold.
With that goal now met, the U.S.-based producer said it is now ramping up operations, a process that is projected to last until at least early next year.
Metal production from the new Stage VI leach pad and Merill-Crowe process plant leach began mid-month, with initial doré expected to be poured on September 18. Approximately one-third of the eight million tons of ore on the new pad are currently under leach.
The Merrill-Crowe plant is achieving a flow rate of roughly 3,500 gallons per minute of solution. Full ramp-up to commercial production of around 13,000 gpm is expected to be achieved in early 2024.
Additionally, with the primary gyratory crusher now installed, construction of the new three-stage crushing circuit is now substantially complete. Once fully ramped-up, throughput is expected to average 32 million tons annually, or about 2.5 times higher than historical levels. This, the company said, will make Rochester one of the world's largest open pit heap leach operations.
Finally, the miner said that its mining test has met design capacity after a multi-day test of truck and loading capacity was completed earlier this month to ensure support of the higher throughput rates.
Through the test, teams were able to confirm the mine's ability to support the designed capacity of up to 100,000 t/d this year and up to 132,000 t/d in 2024 safely. The test data, it noted, will be used to refine processes and identify opportunities for more cycle and load count efficiencies.
President and CEO Mitchell Krebs said the three achievements at Rochester represent "the beginning of a new growth phase" for the company.
"The focus is now shifting to commissioning, ramp-up, and mine optimization initiatives as well as prioritizing several adjacent exploration targets located on Rochester's prospective 69-square-mile land package. Coeur's project team has overcome numerous challenges over the last three years to arrive at this key inflection point and deserves thanks for their resilience and commitment."
In all, Coeur Mining has four wholly-owned operations: the Palmarejo gold-silver complex in Mexico, the Rochester silver-gold mine in Nevada, the Kensington gold mine in Alaska and the Wharf gold mine in South Dakota. It also wholly owns the Silvertip silver-zinc-lead exploration project in British Columbia.
Source: Coeur Mining