Selecting a diesel exhaust fluid storage solution that improves job site efficiency.
By Jeff Lowe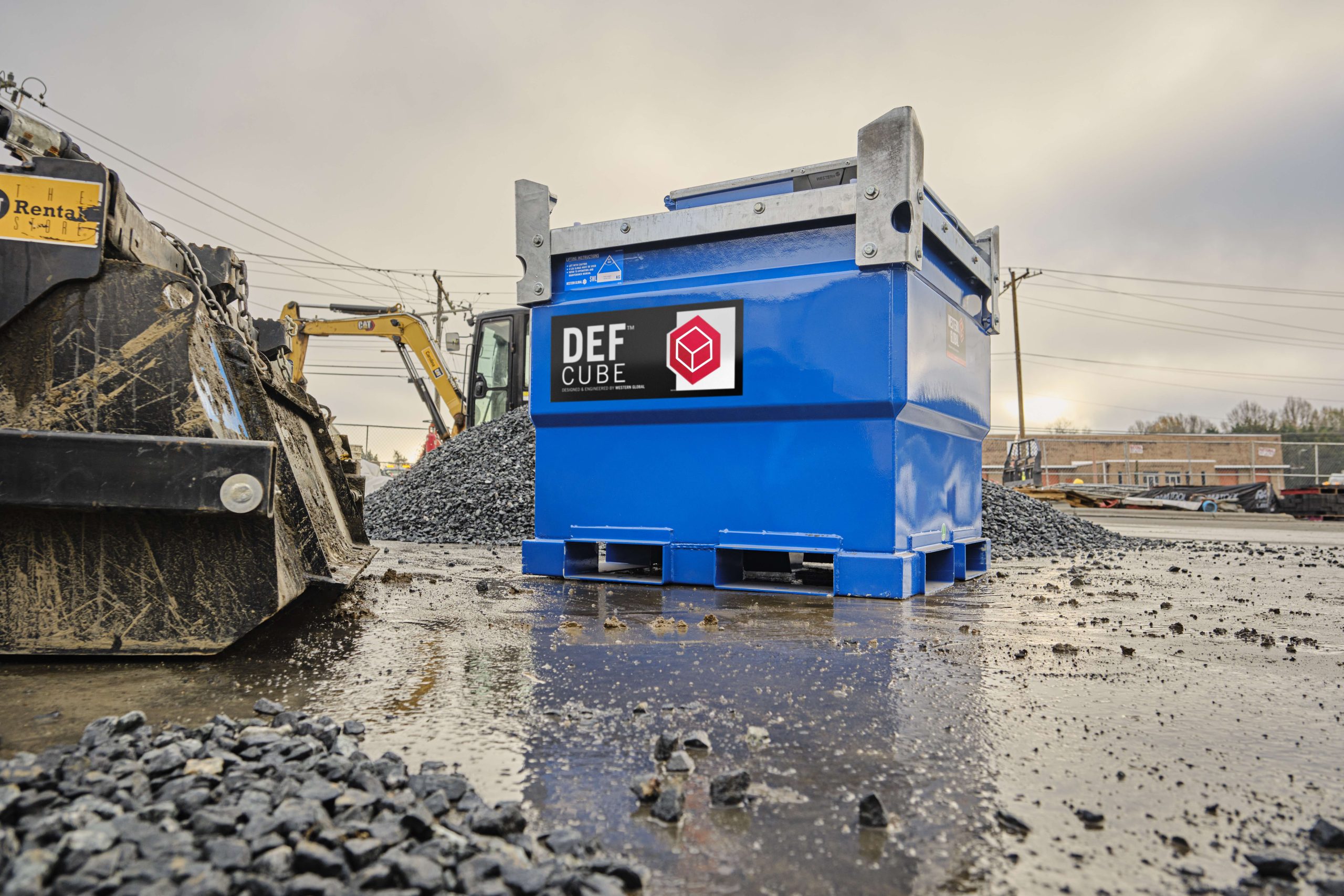 Diesel exhaust fluid (DEF) is surging through the construction industry as more operations convert their fleets to equipment powered by Tier 4 Final engines. While DEF offers plenty of benefits such as safer emissions, optimized combustion and better fuel efficiency, several challenges come with storing DEF to maintain its full shelf life.
DEF is susceptible to impurities so any contamination, even on a small scale, can create a big problem. The fluid is also sensitive to extreme temperatures, so contractors need to be sure it's kept within the optimal temperature range, generally considered to be between 12° and 86° Fahrenheit (-11° to 30° Celsius). All of these factors mean finding the perfect DEF storage solution can be a tall task.
BENEFITS OF BULK STORAGE
Contractors frequently purchase DEF in cardboard boxes filled with 2-1/2-gallon jugs. The boxes must be stored inside a temperature-controlled environment and manually hauling the jugs to pour DEF into the appropriate equipment is a time-consuming task. The relatively small quantity in the jugs means equipment requires frequent monitoring and refilling. This manual process also increases the risk of contaminants that are picked up on the boxes during storage or on the cap of the jug.
On-site DEF storage tanks were developed to address these challenges. Much like with diesel, fuel and fluid distributors can deliver quality DEF to the jobsite, where contractors can store it in bulk until it's ready to use. This offers the benefit of a continual DEF supply without an operator needing to consistently purchase and haul small boxes or jugs of the fluid.
Bulk storage tanks hold larger amounts than cardboard boxes and offer a faster method for transferring the fluid to equipment tanks. Some also reduce the risk of contamination by providing a specially designed dispensing system with a sealed connection for filling the tank. To combat temperature issues, DEF storage and pumping solutions may offer optional systems to ensure the fluid consistently stays at ideal operating temperatures.
While these larger storage tanks are helpful, some still pose challenges and not all are universal solutions. Here are some factors to consider when searching for a DEF storage solution optimized for the jobsite.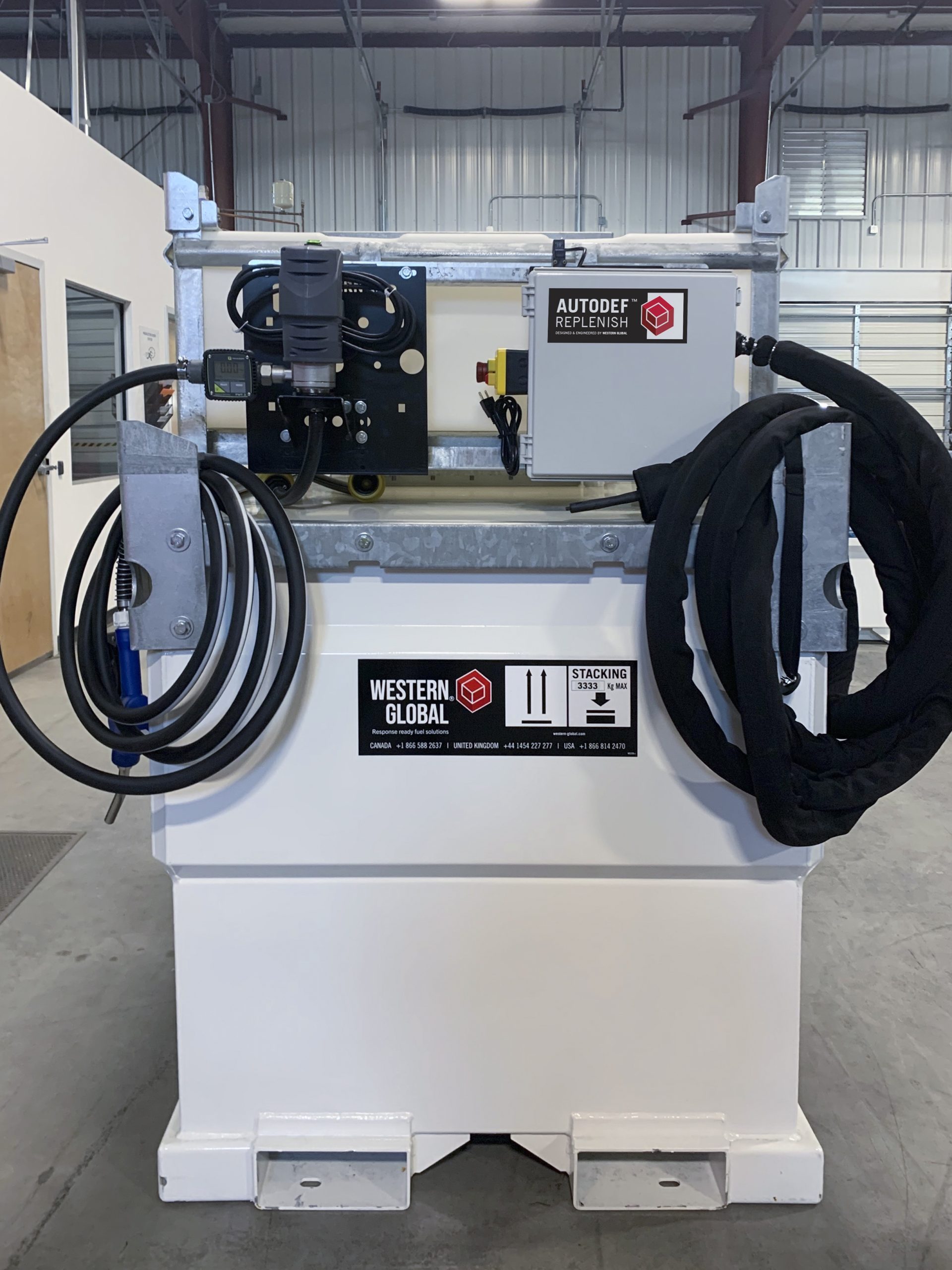 Equipment
Many DEF storage tanks are specially designed to accommodate a specific piece of jobsite equipment. These tanks offer a custom-engineered solution for that machine, but may not work with other equipment on the jobsite. As more equipment requires DEF, machine-specific tanks are not efficient or practical. Consider choosing a DEF storage tank that can fill a full range of equipment with just a few small adjustments to the control panel.
Another factor to consider is whether the equipment is stationary or moves throughout the jobsite. For mobile equipment, look for a manufacturer that offers a manual transfer pump with a nozzle compatible with all equipment on the jobsite, from excavators and wheel loaders to haul trucks. To extend the runtime of stationary equipment like generators, pumps or heaters, look for a system that monitors the level of DEF and automatically refills the equipment as needed. This eliminates the need for a crew member to constantly monitor and refill the machine and can match an auxiliary fuel supply to extend run time by up to a week. Some tanks can even be fitted with both transfer systems to provide a universal DEF solution for all equipment on the jobsite.
Capacity
DEF storage tanks often have a capacity that ranges from 100 to 150 gal., allowing contractors to choose a tank size that maintains the proportional relationship of approximately 10% of DEF per gallon of diesel. Estimating the exact need requires careful consideration not just of the fleet today, but of expected changes in the fleet over the next three to five years. Some manufacturers can help contractors assess the size of the fleet, the additional plans for equipment acquisition and the overall utilization of this equipment to evaluate and determine the tank size that best matches the jobsite needs.
Construction
Contractors should then consider their fuel storage solution and determine whether their jobsite would benefit from a separate DEF tank or a two-in-one solution. Standalone DEF storage tanks can be situated next to an on-site fuel storage tank, allowing operators to fill both DEF and diesel at the same time. Look for standalone tanks that offer double-walled containment and a design that allows for DEF storage over an extended period, no matter the climate. Some come with a poly inner and steel outer tank, reducing the overall weight and making it easier to store DEF on-site in both hot and cold conditions.
Alternatively, some manufacturers offer a DEF storage tank that mounts on top of a transportable on-site fuel tank for a convenient, two-in-one refueling solution. Contractors who opt for this design should look for models that can be daisy-chained on top of the fuel tank to add capacity as needed to maintain the proportion of 10% of DEF per gallon of diesel.
These tanks should also include a reusable nylon RPV valve for closed liquid transfer. This means the valve automatically closes once disconnected, keeping the fluid in the hose as well as sealing the tank against contamination. Additionally, consider the height of these DEF storage tanks. For example, mounted models should have a total height that doesn't exceed 6 feet. This allows operators to easily check the gauges and perform preventative maintenance without needing a ladder and the additional safety requirements that come with it.
When choosing a top-mounted tank, contractors should also be sure it addresses factors like heating options and UV protection to ensure the system can maintain DEF shelf life in a variety of weather conditions.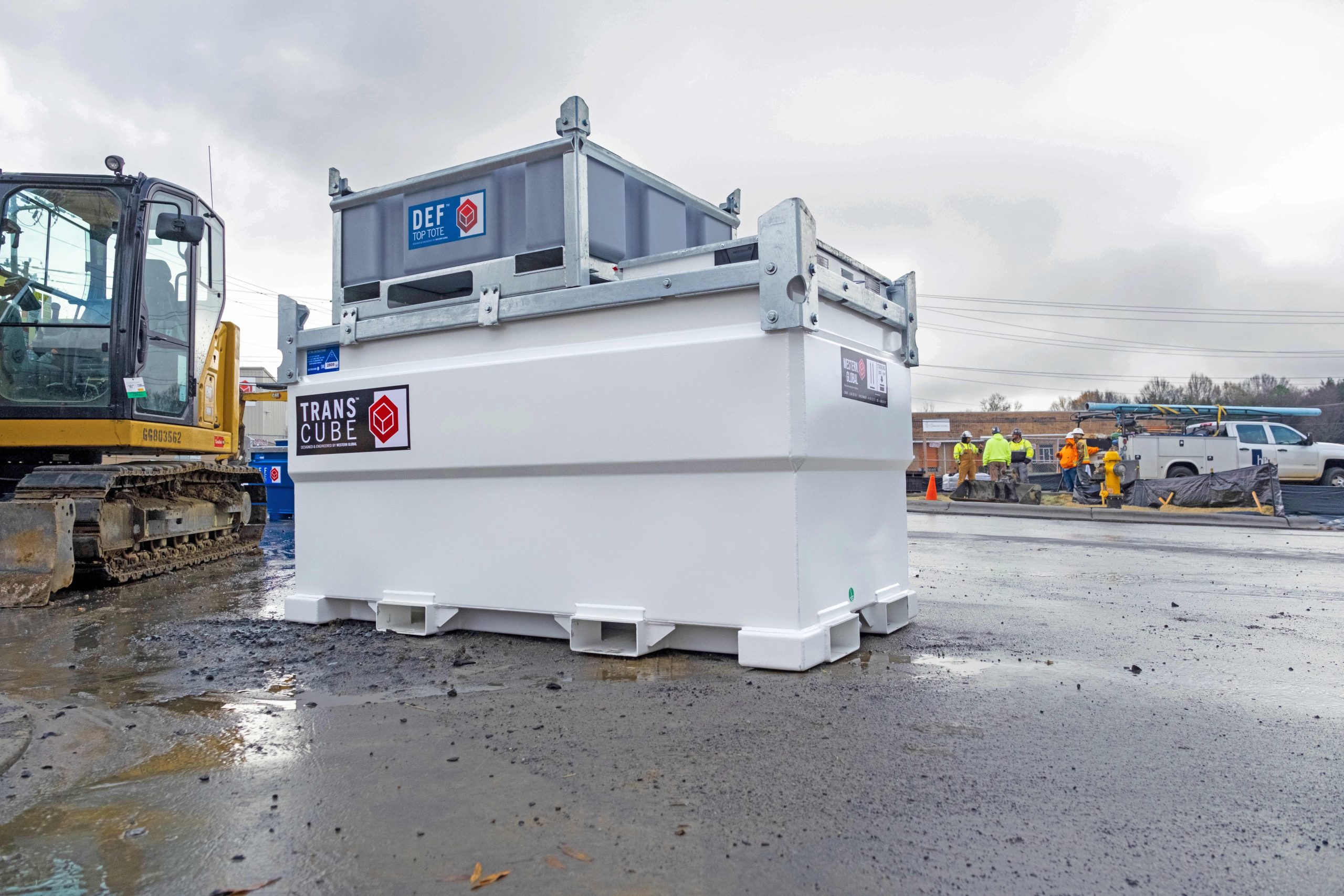 Transportability
Finally, contractors should consider whether the DEF storage solution will need to move throughout the job site. Top-mounted designs move along with the fuel tanks they are mounted to, and some standalone DEF storage tanks are easy to transport as well. Those that have built-in, weatherproof containment eliminate setup time by not requiring secondary pans or basins.
Contractors should also look for tanks with corner brackets and forklift pockets for quick and easy maneuvering throughout the jobsite. Some of these models are even stackable to reduce their physical footprint.
With Tier 4 Final engines in place to meet goals for a more sustainable world, DEF will continue to be an industry staple. In turn, the need for accuracy and efficiency with DEF storage also increases as contractors work to maintain the balance of meeting sustainability requirements and completing projects on time. With the right on-site solution, contractors can address DEF needs efficiently across the entire job site.
---
About the author: Jeff Lowe is the vice president for Product Marketing at Western Global.
To extend the runtime of stationary equipment like generators, pumps or heaters, contractors should look for a DEF storage tank with a pump that monitors the level of DEF and automatically refills the equipment as needed.
When choosing a DEF tank that mounts on top of a fuel tank, contractors should consider the overall height. A total height that doesn't exceed 6 feet allows operators to easily check the gauges and perform preventative maintenance without needing a ladder and the additional safety requirements that come with it.