According to a new study – the first of its kind in North America – copper has proven its effectiveness for killing bacteria and viruses on public transit with a success rate of up to 99.9%.
By Donna Schmidt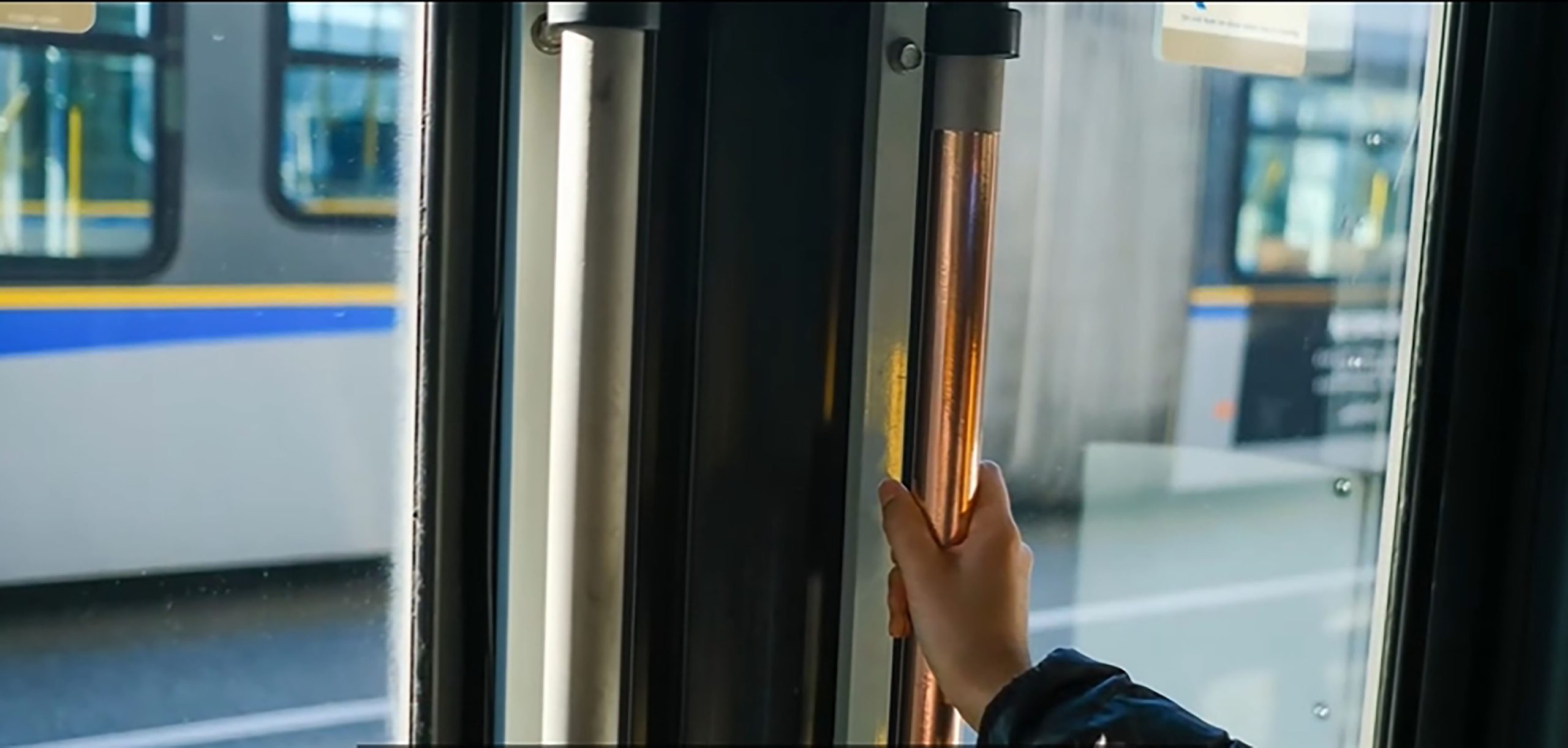 Cars, power generation, plumbing and infrastructure – there's a lot copper can do in this world once mined and processed. We can now add virus-killer to that diverse list.
In a new one-year study conducted collaboratively across Canada with infection control researchers, transit authorities and private industry, it has been revealed that antimicrobial copper can reduce the spread of bacteria and viruses in public spaces.
Teck, which fully funded the work as part of its Copper and Health program, confirmed in May that a Vancouver Coastal Health-led and TransLink and Toronto Transit Commission-hosted study found that select copper products on public transit can eliminate up to 99.9% of bacteria.
"The study evaluated the efficacy of three copper-based solutions for reducing the transmission of bacteria and viruses on high-touch surfaces on public transportation. The solutions tested included thermal coated copper surface layers, copper alloys, and copper decals, both in-situ for bacterial testing and in-lab for virus testing," the mining operator said.
Test results showed that select copper products can eliminate up to 99.9% of bacteria on public transit and 99.9% of viruses in a laboratory setting within two hours of contact.
The testing was conducted every two months for a year by a medical microbiology team from Vancouver Coastal Health, backed by Mount Sinai Hospital in Toronto and the University of British Columbia in Vancouver. After testing, samples from both copper and non-copper surfaces on public transit were analyzed for their virus-killing capabilities, including surrogates for COVID-19 and Noroviruses.
"Results of the in-laboratory studies showed consistent viral load reduction for surrogates of COVID-19 and Noroviruses, as well as the bacterial testing, across all copper products compared to no reduction in the stainless steel comparison," the company said.
The trial comes after prior work by the Infection Prevention and Control team at Vancouver Coastal Health showing copper to be highly durable and effective at killing bacteria in laboratory and healthcare settings.
Teck CEO Jonathan Price said: "Copper's unique antimicrobial properties make it ideal for use in busy public spaces such as transit systems. Teck is proud to partner with leading researchers on this study, which continues to demonstrate that copper is a critical tool to help stop the spread of infection and make our communities safer."
Vancouver Coastal Health medical microbiologist Dr. Marthe Charles, called the study an "added layer" to help reduce transmission risks – all because of this vital mined material.
"We're excited that we have been able to contribute to the global understanding of the antibacterial and antiviral properties of copper and that was made possible through this partnership," he said.