An intelligent collision avoidance system is in testing now that not only makes miners safer – without using tags and personal devices – but also allows users to pool data from machine interactions for use anytime.
Edited by Donna Schmidt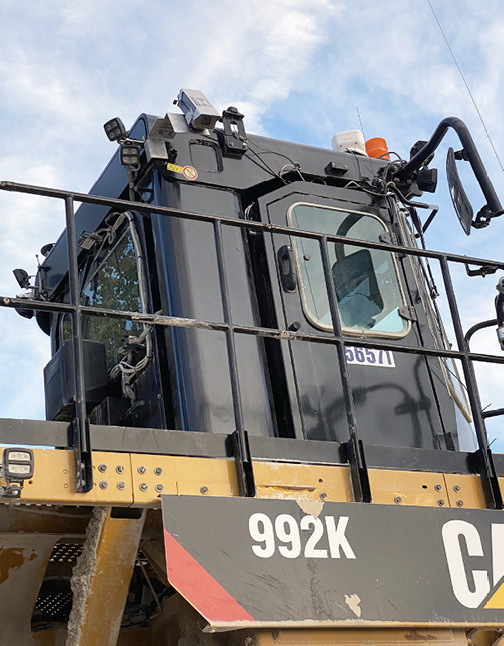 Matrix Design Group has created a system ideal for any mobile equipment unit, using Visual Artificial Intelligence (VAI) to detect vehicles and objects (some as small as a stop sign) and paired it with a cloud reporting system to allow for any number of data requests to be compiled at any time. The company recently spoke with NAM about the system and what's around the corner for OmniPro.
When was OmniPro developed, and what was the impetus for its creation?
The initial OmniPro system was designed to address ongoing concerns with accidents and near misses between surface haulage machinery and light vehicles or pedestrians. The proof of concept (POC) in 2019 was to address a gap we identified in collision avoidance solutions. At the time, the available systems required personnel to wear a device to be detected. These tags are expensive and often get lost or damaged. And, when vendors came on site, they had to be issued one, which had to be retrieved later. 
Our team was experimenting with AI machine learning and thought this emerging technology could be used for a new generation of collision avoidance products. OmniPro was designed to detect people and equipment without the use of tags or personal devices. Through our experience with IntelliZone, which uses shaped zones, we also determined a traditional "bubble zone" would not be a good solution. Because all worksites are different, OmniPro's detection zones can be adjusted to match the unique environments better. By creating directional alert zones, we only detect people or vehicles in the path of travel, not those out of harm's way – which is a typical issue with bubble zones – reducing nuisance alerts. Bubble zones are easier to create but lack precision, leading to non-use and ineffective installations.
Data is an additional bonus of OmniPro is its data-collecting capability. Good data can help facility managers evaluate operator performances and see potential hot spots for potential collisions. Each zone breech is photographed and recorded. We just introduced our cloud reporting system, making access easier. OmniPro's current standard detection suite includes people, trucks, cars, stop signs and forklifts. Operations can select what they want to be detected and reported upon.
OmniPro has been in testing about three years. What are the most important factors of this testing?
Any new product has to be extensively field tested in various environments to provide an accurate performance picture. OmniPro has been tested in material handling warehouses, foundries, cardboard manufacturing facilities, pulp and paper mills, surface mines, underground metal/non-metal mines and within salt mines on varying equipment, small to large. OmniPro can be easily installed on any make or model of mobile equipment, allowing for a single solution across their equipment fleet. Customer feedback has been key, allowing us to implement and test new functionality and revised models to deliver a solution that is easy to set up and operate. 
We just introduced our new cloud reporting system and are continuing to upgrade the product's functionality. We offer pilot programs for customers interested in trying out the technology to ensure suitability.
Have approvals been obtained, or are they still pending?
While there are systems in use underground in salt operations, our customers have been primarily focused on surface applications; therefore, we haven't pursued an IS or XP MSHA approval to date. As with any Matrix product, OmniPro is built to operate in harsh industrial environments. Matrix designed the camera to be IP67.
What do you feel are the most crucial issues surrounding collision avoidance? 
Accurately alerting the operator to the presence of people or equipment is critical. Properly identifying a pedestrian or machine only when they are in a dangerous area is key. These reduce false/nuisance alerts for the operator and allow them to rely on the system – a reliance vital to success. Setup is another crucial step; proper installation to ensure equipment protection and use-case area coverage is another essential component of a successful rollout. 
Do you feel the industry is responding well, or do we still have far to go in terms of bringing collision avoidance to front of mind?
Many operations have identified collision avoidance as an engineering solution to permanent risks. Before rolling out solutions, personnel are taking proper steps to try different solutions to identify which suits them. As the technology proves itself in production use, many operations are adopting the systems as a standard safety program component. 
In our experience, safety supervisors see the value in the systems immediately and are often seeking our assistance to help with issues they identify in their operations. Machine operators, though, while fully acknowledging the need, tend to take a "see it to believe it" stance, providing swift feedback regarding interruptions to productivity but becoming the staunchest advocates once the system proves its viability.
Will mining fleet automation have an impact on collision avoidance as we know it? How so?
Autonomous vehicles require the integration of numerous technologies working seamlessly to ensure a balance between efficient production and worker safety. This application will become more widely adopted for vehicles that perform repetitive duties, such as surface haulers. To operate harmoniously with nonautonomous machines, these vehicles require integrated, redundant collision avoidance systems. Therefore, as the adoption of autonomous vehicles increases, so will the requirement for varying collision avoidance technologies.
The most significant impact may be that these systems natively integrate into the technology stack onboard the machine instead of being purchased as an aftermarket addition, as the inherent risks associated with operating autonomous machines without collision avoidance systems significantly outweigh the costs for both vendors and operators.
Matrix Design Group is headquartered in Newburgh, Indiana.