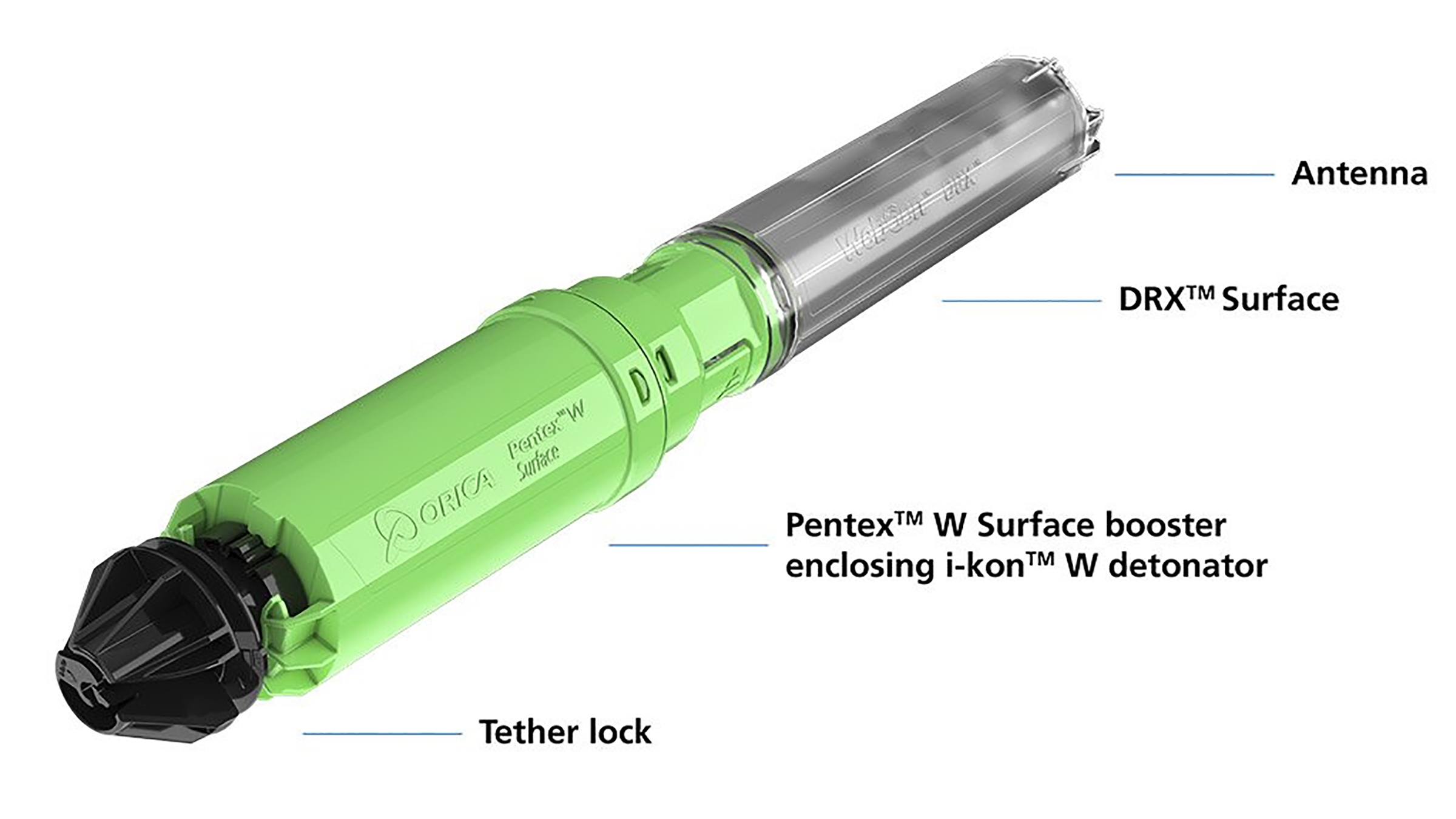 Now commercially available from Orica: the WebGen 200 Surface wireless initiating system, which enables new mining methods and blasting techniques to improve safety, increase productivity and reduce operating costs.
Released this month, WebGen 200 Surface is based on the success of more than 5,000 WebGen 100 blasts around the world, containing over 150,000 primers. Orica's WebGen 200 Surface, the company noted, will change how the industry blasts, resulting in more safer and efficient blasting for customers.
Specifically designed for surface mining applications, eliminating physical wired connections to a blast or within the blast hole opens up a whole new range of possibilities. WebGen 200 Surface enables customers to optimize their entire mining process from reducing exposure on bench to geological hazards, such as stemming dust, working next to highwalls, reducing vehicle interactions, and removing people from harm's way.
The WebGen 200 system revolutionizes mining operations by enabling customers to operations during the lightning storm season or turning a loaded blast into a temporary haul road with the award-winning blasting method Mine Schedule Flexibility.
"It is the culmination of years of research and development across technology, marketing, commercial, supply and manufacturing teams," Orica Senior Manager – WebGen Commercialization Rhys Patterson said.
"We are pleased to announce that WebGen 200 Surface is now commercially available for our customers."
In addition, the safe passage of mining equipment overloaded blast holes by maintaining parallel mining, and drilling and loading activities is now a reality, which can significantly increase the vertical advance of surface mines. Production delays associated with exclusion zones around loaded blast patterns during lightning storms can also be eliminated using WebGen.
Orica's underground customers around the world started the transition to WebGen 200 Underground Pro, with Newmont Borden being the first underground customer reaping the benefits of adopting this game-changing technology in late 2022. Engineered to deliver robust safety and reliability, the four variants of WebGen 200 have been built with enhanced capabilities, security, and versatility, ensuring it meets the extreme mining conditions faced by surface and underground customers.
Orica's comprehensive verification and validation product testing in the field hit the testing program milestones for the WebGen 200 Surface primer at Moose Creek quarry in North America, Karreman Quarries and TerraCom Limited Blair Athol mine in Australia, and their partner customer mine in northern Chile.
The WebGen 200 full suite comprises of four product variants and includes a wider range of booster weights, opening new segments, applications, and opportunities in both surface and underground mining. The complete product range includes WebGen 200 Surface, WebGen 200 Surface Pro (toward end of 2023), WebGen 200 Underground Pro and WebGen 200 Dev.