After five jam-packed days of innovative product launches and major company announcements, enlightening education sessions and countless networking opportunities, ConExpo-Con/Agg 2023 came to a close, but not before taking the construction and aggregates industries to the next level.
The show crushed expected attendance numbers, drawing more than 139,000 construction, aggregates and fluid power professionals from 133 countries to Las Vegas from March 14-18 – making it the largest trade show in North America with more than 2,400 exhibitors from 36 countries spread out over 3 million sq. ft. of exhibit space.
"The innovations in the construction industry unveiled this week will play a role in helping construction professionals drive meaningful and sustainable economic growth," said Phil Kelliher, Caterpillar senior vice president ConExpo-Con/Agg show chair. "Live events in the construction industry are very important, because you can see, touch and experience the products. That value was reaffirmed this past week across the show floor."
This year's show emphasized how the construction industry is evolving in many ways to adapt to sustainable technologies, products and practices. Show attendees were treated to sustainability in action, from electric and hydrogen powered construction equipment, to more recyclable materials and waste reduction opportunities.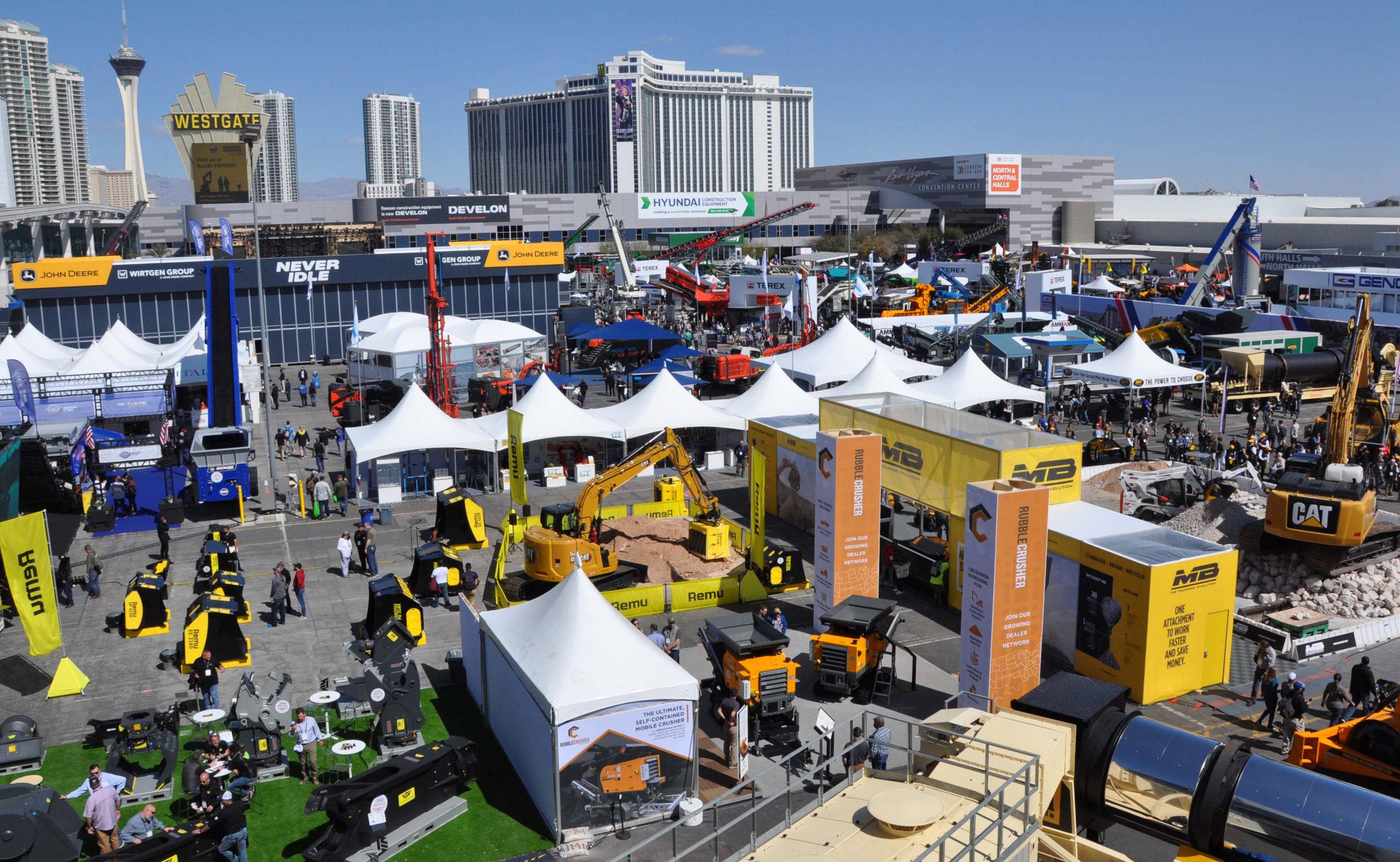 Across the show floor, sustainable technologies, products and practices included:
Volvo Construction Equipment brought several electric and autonomous pieces to its stand in the Festival Lot, including its EC230 electric excavator pilot, its Zeux autonomous concept wheel loader, and its HX04 prototype hydrogen articulated hauler.
Astec Industries' Materials Solutions Group displayed its newest portable high-frequency screen plant, the PTSC2818VM.
BKT displayed EARTHMAX All-Steel radial tires, designed to withstand the harshest conditions.
CASE Construction Equipment debuted "The New CASE" showcasing groundbreaking new equipment, exciting new partnerships and a range of new solutions, declaring, No One Will Outwork Us."
Caterpillar featured four battery electric machines as well as a series of prototype batteries for off-road equipment ranging from 48-600 volts.
CDE featured its AggMax scrubbing and attrition system, its Counter Flow Classification Unit (CFCU) for density separation and EvoWash sand classification and dewatering system.
Develon, formerly Doosan, debuted the DX1000 excavator.
Haver & Boecker Niagara demonstarted Pulse Condition Monitoring (Pulse CM) as a part of their Pulse portfolio.
Hitachi said it expects to double sales volume in 2023.
Hyundai exhibited two alternative-powered prototype excavators. The Hyundai HW155H is a prototype wheeled excavator powered by a hydrogen-fueled engine. The two-ton prototype Hyundai R19E is an electric-powered compact excavator.
John Deere and the Wirtgen Group offered 36 world premieres of brand-new equipment across the construction, roadbuilding and aggregates segments.
Among other machines, Komatsu displayed the PC360iLC-11 intelligent excavator and WA600-8 wheel loader.
Liebherr offered updates on the company and highlighted more than 30 machines and exhibits at its booth in the Festival Grounds.
MAJOR featured its FLEX-MAT panels, including the new PLUS series, available in a variety of patterns, including the D, S and T series.
McLanahan featured a Horizontal Screen Over Screw Portable Plant for the first time at any trade show.
Metso Outotec launched the Nordberg HPe series of cone crushers.
Montabert featured the SD Compact Breaker for rock breaking. The SD line is designed to fit compact carriers such as mini-excavators and skid steers. Additionally, Montabert's new line of Silent Demolition Tools were shown.
Polydeck featured RUBBERDEX ULTRAMAX and METALDEX ULTRACLEAN, designed to improve the efficiency and effectiveness of the screening process.
For the first time ever, Rokbak haulers were on display at a North American tradeshow.
Sandvik launched the Ranger DX910i, its latest flagship top hammer surface drill rig, together with new drilling tools.
Stedman Machine Co. featured the company's Grand-Slam HIS, which crushes many materials, ores and aggregates to the proper size with one pass.
Superior Industries Inc. showcased more than 250-tons of its products, including two brand-new cone crusher models introduced and shown alongside Superior's trusted Patriot Bushing Cone.
Terex MPS introduced two new pieces of equipment, the Cedarapids CRC1350S Portable Cone Crusher Plant and the Simplicity ESX "Extra Clearance" Series Horizontal Screen.
VDG focused on its GrizzlyDrive Series Drum Motors for mining and aggregate, ship loading and power generation.
ConExpo-Con/Agg by the Numbers
• 3+ million net sq. ft. of exhibits (10.5% larger than 2020).
• 139,000+ registered attendees (6% increase over 2020).
• 2400+ exhibitors, from 36 countries, including 603 new-to-the-show exhibitors.
• 24,000+ international registered attendees from 133 countries.
• 91,000+ scans of badges to access the 190 education sessions.
• 600+ global media from 33 countries
The next ConExpo-Con/Agg will be held March 3-7, 2026, at the Las Vegas Convention Center in Las Vegas.