Wabtec flexing its muscles – and horsepower – for the future of emission reduction with battery locomotives.
By Donna Schmidt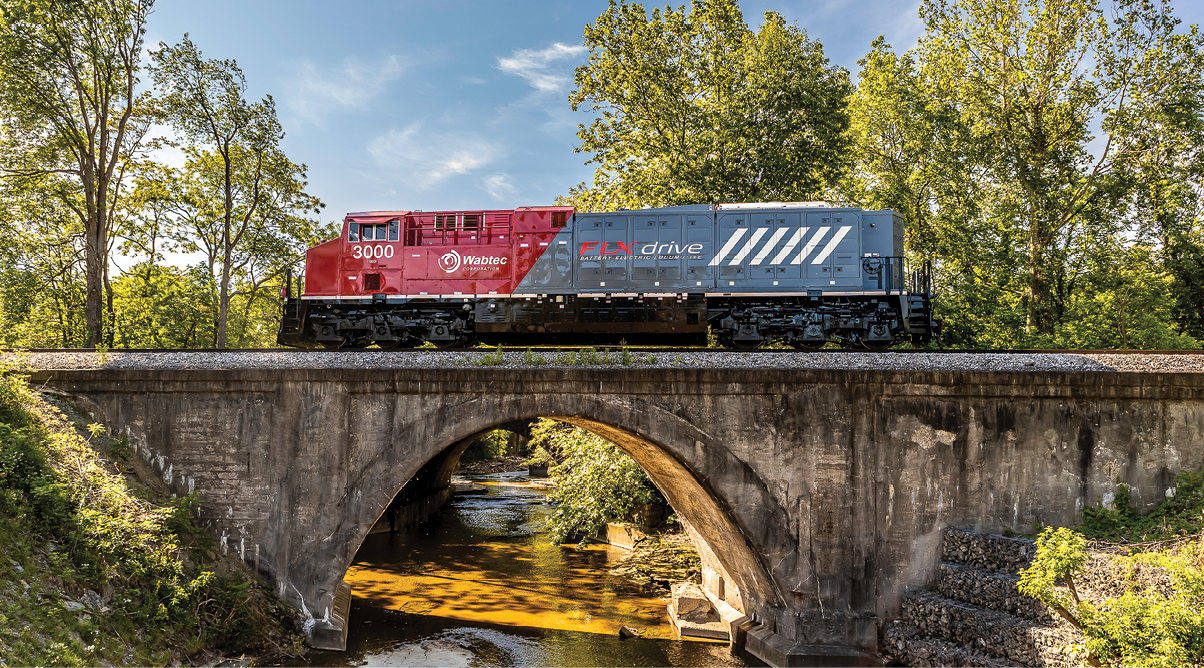 The year 2022 is barely three months old, and already it's been a big year for transport group Wabtec. The company has sealed not just one, but two major orders from global operators for its newest technology – the FLXdrive battery locomotive.
On January 10, Wabtec confirmed receipt of an order from Rio Tinto for four of its battery-electric drive locomotives to support its operations in Western Australia's Pilbara region. The 100% battery-powered machines will help Rio Tinto achieve a 50% reduction in its Scope 1 and Scope 2 carbon emissions by 2030.
Just one week later on January 17, Wabtec announced another order, this one from BHO Western Australia Iron Ore (WAIO), for two FLXdrive locomotives. Brandon Craig, BHP WAIO asset president, said the trialing has great potential to advance its emissions goals.
"Rail is the fundamental link in our pit-to-port value chain, and the power required to deliver fully laden iron ore wagons from the Pilbara to Port Hedland is significant," he said.
BHP currently uses four diesel-electric locomotives in a consist to pull trains comprised of approximately 270 cars carrying 38,000 tons of iron ore. The FLXdrives will join the diesel locomotives to form a hybrid consist, and recharge during the trip through regenerative braking.
"Wabtec's next generation energy-management system will determine the optimal times to discharge and recharge the batteries along the route ensuring the most fuel-efficient operation of the entire locomotive consist during the trip," the company said.
Each locomotive in both deals has an energy capacity of 7 megawatt-hours (MWh) and, based on the route they will take from the mine to the port at Dampier in Western Australia and Rio Tinto's mainline rail operations, FLXdrive will help reduce fuel costs and emissions in percentage by double digits per train.
All of the locomotives will be delivered to their new homes in 2023.
For Wabtec President of Equipment Rogerio Mendonca, these orders are just one part of a significant shift in the process for mine rail decarbonization for the globe that is starting in the Pilbara.
"Pilbara is a high iron ore production area with a very demanding and complex operation. These characteristics make the region a very good proving ground for new technologies," he explained to North American Mining magazine. As performance is witnessed in this area, it gives confidence to the company – and to others – about future operations.
In addition, the Pilbara has a "sophisticated workforce" that is well versed in implementing new and changing technology.
"The workforce has worked with autonomous systems for decades now and are constantly exploring new and sophisticated technologies," Mendonca said.
Shifting perspective, the Pilbara is also ideally suited for the technology of the FLXdrive, in large part because the hilly terrain permits regenerative braking and recharging along the route.
"This aspect enables the mining companies to maximize the battery power throughout the trip – reducing emissions and fuel consumption. Additionally, these companies have enclosed rail networks, which enables an easy integration of the FLXdrive into their operations," he said.
So, with the Pilbara becoming the trailblazer for battery locomotive advancements, what region makes the best business and sustainability case to be the next mining hub of decarbonization?
According to Mendonca, we should be keeping our eyes on a few areas closer to home – those regions with rich mineral deposits but similar landscape and environmental conditions as the Pilbara. Specifically, he speculated, the African or Southern American mining regions.
"Iron ore and copper mines stand to benefit the most through decarbonization as deteriorating ore grades leads to hauling more overburden yielding the same amount of ore," he said. Along the way, mining's use of this technology will only trend upward.
"The battery-electric technology will eventually be applied to other haulage vehicles. Given the current energy density of batteries, hybrid solutions with batteries to reduce diesel consumption seem like a potential short-term solution … as battery density improves," he said.
America is, in fact, on that growth map, and a little closer than many might think.
In late January, for example, railroad company Union Pacific announced a sizeable investment in battery locomotives and their potential for rail decarbonization, ordering a fleet of 10 FLXdrive units – the largest-ever investment in battery technology by a North American railroad.
Rafael Santana, Wabtec president and CEO, said at the time that battery power is an ideal solution to reduce the environmental impact and costs of yard operations.
"Using the FLXdrive in the rail yard can significantly improve local air quality, as well as reduce noise by up to 70% for neighboring communities," adding that the locomotives, totaling 2.5 MWh each, are powered solely by 7,000 battery cells and will enable the railroad to eliminate 4,000 tons of carbon annually from its rail yards – the equivalent of removing 800 cars from the highway.
The new locomotives will be manufactured in the United States with the first units being delivered to Union Pacific in late 2023, Wabtec confirmed.
With all of that working in favor of a battery-powered future for mining rail transport, how far are we away from a fully battery-electric consist?
"The rail industry is on the cusp of technological advancements required to power locomotive fleets with alternative green energy sources, such as batteries, and eventually, hydrogen fuel cells," Mendonca said.
"The FLXdrive battery locomotive is a major step toward decarbonizing the rail networks. Battery and hydrogen fuel cells will play a major role in Wabtec's vision to provide mining operations and railroads with zero-emission locomotive fleets. It is a journey that has started and will lead the industry to realize the benefits as battery and hydrogen technologies and fleets mature and grow."