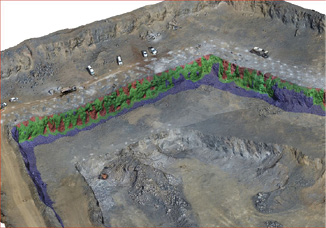 Blast optimization software developer 3GSM has updated its flagship offering for blasting performance and drilling pattern analysis, BlastMetriX UAV.
The newest version improves communications with smart drills and offers face profiling enhancements for more sophisticated drill pattern analysis; a new analysis tool spotlights irregularities and allows blasting KPI programs to diagnose and correct blast performance that is poor.
It also includes enhanced geological mapping integration to visualize seams and faults in a blast pattern, and an underground package can capture shot volumes.
Robert McClure, president of consulting firm Robert A. McClure (RAM) that provides service, support and training for BlastMetriX UAV, said customers with an active update license will automatically receive the new features, or they can be ordered separately.
"The enhanced drill pattern analysis tool provides heat mapping of drilled borehole deviations for simple visualization of differences between 'as planned' and 'as drilled' patterns," he added. "Semi-automatic mapping of linear rock mass features is imported into the blast plan; by providing enhanced burden and spacing information, the software allows users to adjust explosive amounts in each borehole to account for irregularities."
Incorporating the ShapeMetriX system for generating and assessing 3D images, new geological mapping integration allows users to better visualize dips, strikes, seams and voids throughout the drilling pattern, the developer said. The software can characterize irregularities in the face, which are projected back through the borehole, allowing for more precise loading of the borehole and improves blast safety.
RAM is based in Ohio. 3GSM is headquartered in Austria.