Orla Mining, which has brought its Camino Rojo project to operational fruition in less than two years, has recorded the first gold pour from the gold operation in Zacatecas state, Mexico.
The first pour on December 13, which was on schedule with the miner's plan, totaled 1,278 ounces over three bars that contained about 770 ounces of gold and 510 ounces of silver. More pours are scheduled before the end of the year.
The next steps for Camino Rojo are commissioning and operational ramp-up, which will continue through the remainder of the year and into the first quarter of the new year.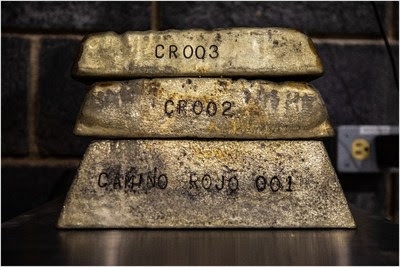 Mining and processing tonnes and grades have been meeting expectations thus far. Commercial production is expected by the end of 1Q22.
In November, it mined a total of 466,215 ore tonnes at an average grade of 0.65 g/t gold, and crushed and stacked a total of 374,976 tonnes on the heap leach pad. Year to date as of November 30, it had recorded a total of 1,589,994 tonnes of ore at an average grade of 0.72 g/t gold, and crushed and stacked a total of 750,564 tonnes.
Camino Rojo, an open-pit and heap leach operation, is 100% owned by Orla.
Source: Orla Mining