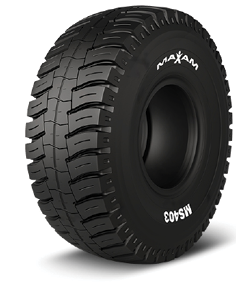 Maxam Tire has rolled out its newest addition tire, the largest in its line of open-pit mining tires, the MS403 59/80R63.
Part of its Haulmaxam large mining series, it can meet the most challenging application requirements, the company said, in the open-pit segment which demands rigid haul truck tires.
The tire features deep tread and an aggressive tread pattern that increases shoulder lug stability and reduces irregular wear on the tread. It also contains a heat-resistant undertread for reduced internal heat buildup, increasing the tire's TKPH/TMPH.
In addition, it features a unique two-stage lug to improve self-cleaning capability, combating the toughest jobs for utmost productivity.
"To meet the demands that large haul trucks with 63-inch tires face, the 59/80R63 MS403 encompasses a heavy-duty casing and bead construction with advanced compounding technology," the company said.
"Similar to the large 63-inch product lineup in the mining series, the MS403 has undergone advanced engineering, extensive research and rigorous global testing repeatedly … with the main goal of providing exceptional performance and lower cost-per-ton value."
Matt Johnson, VP of Maxam Mining Group, said the new addition is needed in what is a demanding mining global market, and its now-expanded line delivers a comprehensive selection of solutions to mining applications globally in every size.
"We are confident that the largest open pit mining tires will perform on par with other tier-one tires with a more competitive price and value," he added.